---
Buying road tuning parts for your car
Making your car stand out from the crowd today can be difficult. Aside from the colour and perhaps the wheels, the vast majority of cars on the road look very similar. Production cars share parts between models and even between manufacturers so as a consequence, most cars today drive like each other.
Here at ID Workz we specialise in creating the extraordinary, providing our customers with high quality performance car parts that will significantly upgrade their vehicles. Whether you're looking to change your vehicle styling with upgraded alloy wheels from brands such as Linea, Rota and 356 Wheels or whether you're looking for increased horsepower - we stock the car tuning parts you need.
Advice on how to tune your car for the road
You've established that you want your car to be different from the rest, that's a great start! Knowing where to begin with your upgrades can be difficult and your budget will obviously dictate what you can realistically achieve. This is where our expertise comes in. Rely on our team to guide you to the right parts for you to achieve the appearance and performance you're looking for.
Road tuning parts for a lower ride
Reducing your car's ride height or lowering is one of the most popular modifications you will see on the road. Whilst most people do approach lowering from an aesthetic angle, it can also offer improved handling specifically when cornering. The ride of your vehicle will become firmer as a result of most suspension modifications and significantly reduce body roll.
Which suspension parts to use will depend on your vehicle. You may be in a position to simply bolt on replacement coilovers that have a shorter range of travel resulting in a lower ride height. We stock coilovers for most popular car manufacturers from Toyota, Nissan and Honda to BMW, Audi and Volkswagen. Brands such as Eibach, BC Racing and Yellow Speed racing.
You may only need to replace the springs if your dampers are separate, in which case we offer a huge range of shorter, tenser lowering springs from brands like Tein and Whiteline. We can help you reduce body roll with anti roll bars from Ultra Racing, reduce lift in corners with anti lift units from Whiteline and Powerflex, and reduce movement in pivot joints with our range of poly bushes from Powerflex and SuperPro.
An engine that can breathe is an engine that will move
If you're aiming for increased power coupled with the noise that we all associate with more horses beneath your bonnet. There are numerous ways in which you can increase the power, starting with improved air flow.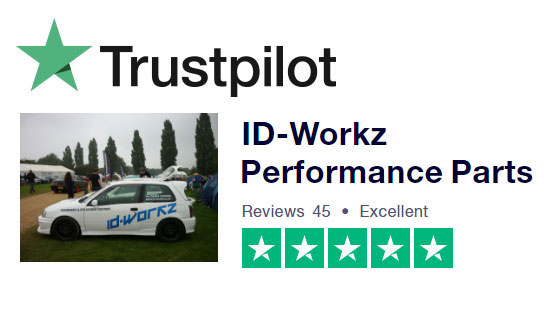 By installing a cold air filter from brands such as K&N or Blitz, you can significantly improve the air flow into your engine. With more oxygen entering the engine block, the air/fuel mixture becomes more volatile and burns faster. As a byproduct of using all that fuel, excess fumes are created. By introducing a performance exhaust system from our vast range, you will remove those fumes for efficiently whilst changing the engine note to a deeper, more aggressive sound.
Contact the ID Workz team for further information
We pride ourselves on our customer service and providing our customers with the best performance brands in the car tuning industry including Milltek, Cobra, Blitz, Eibach, Brembo and many, many more. Order online using our simple and reliable system or for any other queries, get in touch via the contact us section, email or call us on 01484 535665.