Let's talk about the Honda Civic Type R FK8 because it is a car that's made to perform and it is impossible to ignore.
The Honda Civic Type R FK8 is a high-performance variant of the tenth-generation Honda Civic. It was first introduced in 2017, ended production in 2021 and is known for its aggressive styling, track-focused performance, and impressive handling capabilities.It's a car that's been designed to push the limits of performance, with every detail engineered for maximum speed and agility.
Performance
Under the bonnet, the Honda Civic Type R FK8 is powered by a 2.0-litre turbocharged in-line four-cylinder engine that produces an impressive 316 horsepower and 295 lb-ft of torque. This engine is paired with a closed-ratio six-speed manual transmission and front-wheel drive, which makes for an exhilarating driving experience.
The FK8's engine is a high-revving powerhouse that produces plenty of power throughout the rev range. It features direct injection, variable valve timing, and a low-inertia turbocharger that helps to reduce lag and provide instant throttle response. The engine also has a high-flow intake and exhaust system that helps to increase airflow, resulting in improved performance.
With all of this power and torque on tap, the FK8 is a seriously quick car. It can accelerate from 0 to 60 mph in around 5.0 seconds, which is a testament to its impressive performance capabilities. And with a top speed of 170 mph, the FK8 is more than capable of keeping up with much more expensive high-performance cars on UK roads.
Handling
The Honda Civic Type R FK8 is a car that's built to perform, and its handling capabilities are a big part of what makes it so special. The FK8 has been praised for its exceptional handling, which is a result of a number of advanced features that have been engineered for maximum performance.
One of the key features that contribute to the FK8's handling prowess is its sport-tuned suspension system, aided by its limited-slip differential, which helps to improve traction and stability, especially during hard cornering. In addition to its suspension and differential, the FK8 also features performance brakes that provide excellent stopping power. 
The FK8's handling capabilities have been put to the test on some of the world's most challenging racetracks, and it ended up settingfront-wheel drive fastest lap records at various circuits around the world, including the Nürburgring Nordschleife and the Suzuka Circuit. 
Practicality
Nobody can deny that the Civic Type R FK8 is a car that's made for the track, but it's also surprisingly practical. It's a hot hatchback that can easily serve as a daily driver, making it an excellent choice for those who want a car that can do it all.
One of the FK8's biggest practical advantages is its spacious cabin. It can comfortably seat up to four adults, and the rear seats fold down to provide additional cargo space when needed.
The FK8 also comes with a variety of standard features that make it a great car for daily driving. It has a large infotainment system which makes it easy to stay connected on the go. It also has a range of driver-assist features, including adaptive cruise control and lane departure warning, which help to improve safety and reduce driver fatigue.
Modifications
However, even though the FK8 is a high-performance vehicle, there is always room for improvement. That's where performance modifications come in. With the right modifications, you can take the FK8's performance to the next level, making it an even more thrilling driving experience.
At ID-WORKZ, we offer a wide range of performance parts that can help you take your FK8's performance to the next level. Here are just a few of our top performance modifications available for the Honda Civic Type R FK8:
Our list starts with the PBS ProRace Brake Pads - because all modifications should start with brakes if you want to stay safe and these are the ultimate high-performance brake upgrade option for the Honda Civic Type R FK8! Engineered by racing drivers for racing drivers, these brake pads are designed with one thing in mind: track day domination.
Crafted from a ceramic graphite compound, the ProRace brake pads pack a serious punch with stopping power ranging from 0.36 to 0.58mu - perfect for those seeking to enhance their braking performance on the track. Not only that, these pads boast a working temperature range of 0-800c, enabling them to handle high temperatures with ease. This exceptional heat resistance delivers unparalleled pedal feel, minimal dust, and extended rotor life.
And that's not all - even novice drivers will notice the difference immediately. With PBS' exceptional initial bite and precise control, you'll feel like a seasoned pro on the track. So, whether you're a seasoned driver or just starting out, the PBS ProRace Brake Pads are the ultimate upgrade for your Honda Civic Type R FK8.
At ID-Workz, we're proud to be an authorized UK distributor of PBS brake pads. And if you own a Type R FK8, you won't find a better deal anywhere else. We offer the lowest prices on the market, so you can experience the thrill of these premium brake pads without breaking the bank.
Upgrade your ride with the PBS ProRace Brake Pads and take your track day performance to the next level!
Second one up is the game-changing HEL Braided Brake Lines - the best thing you can add to your Honda Civic Type R FK8's braking system! Say goodbye to that spongy feeling and welcome a new era of precision, strength, and responsiveness.
Designed to handle extreme braking conditions, the HEL Braided Brake Lines replace your standard rubber hoses with a complete braided hose system. This means you can expect smoother, stronger, and more responsive braking, exactly when you need it the most.
The HEL Brake Line Kit includes stainless steel braided brake lines, stainless steel banjo bolts (if required), copper crush washers (if required), and an easy-to-follow instruction leaflet. And with a range of colors to choose from, including blue, black, carbon look, green, orange, pink, red, silver (default), white, and yellow, you can customize your brake lines to match your style.
And the best part? Each brake line kit comes with a lifetime warranty, giving you ultimate peace of mind.
So, if you're looking to take your Honda Civic Type R FK8's braking performance to the next level, look no further than the HEL Braided Brake Lines, available now at ID-Workz. Upgrade your ride today and experience the power of precision braking like never before.
Get ready to take your Honda Civic Type R to the next level with the Cobra Sport Cat-Back Exhaust - the ultimate upgrade for drivers seeking a unique driving experience. Designed specifically for the Pre-GPF RHD UK Civic Type Rs, this exhaust system is made from 3"/76.2mm pipework and replaces the over-axle, center, and rear sections from the catalytic converter section backwards.
And the benefits don't stop there - not only does this exhaust system improve performance, it also unlocks a new level of sound, creating a hyper hatch with an exhaust tone that matches its extreme looks. 
Plus, the styling of the Civic Type R is improved, creating a noticeably enhanced and balanced look to the rear of the vehicle, with a choice of triple 4in/101.6mm slash-cut highly polished stainless-steel tailpipes. And for those looking to take the style upgrade a stage further, upgraded carbon fiber tailpipe tips are also available.
With over 25 years in the performance exhaust industry, each Cobra Sport exhaust system is designed, manufactured, and tested in Sheffield, the heart of the UK steel industry. Utilizing TIG-welding techniques to ensure a flawless finish and quality you can rely on, the Cobra Sport Cat-Back Exhaust is the ultimate upgrade for any Honda Civic Type R.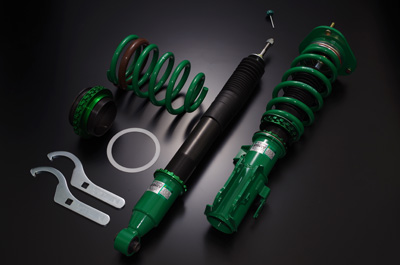 Upgrade your Honda Civic Type R's handling game with the TEIN Flex A coilovers - the ultimate choice for serious driving enthusiasts. These coilovers offer full-length ride height adjustment without sacrificing ride quality, thanks to the 16-level linear damping force adjustment system.
But that's not all - the TEIN Flex A coilovers also feature a Hydraulic Bump Stopper (HBS) mounted inside the shock absorber, a unique feature designed to effectively absorb big impacts smoothly. This is especially useful for lowered vehicles, where traditional urethane or rubber bump stoppers can cause big upward jolts and rebound, potentially disturbing the car's controllability. 
With a front spring rate of 8 kg/mm and a rear spring rate of 8 kg/mm, these coilovers are specifically designed to fit the 2017+ Honda Civic Type R 2.0 FWD FK8. Plus, the error canceller is included for added convenience.
The TEIN Flex A coilovers offer unmatched performance and precision, allowing you to take your driving experience to a new level. So if you're a serious driving enthusiast looking to upgrade your Honda Civic Type R's handling, look no further than TEIN Flex A coilovers, available now at ID-Workz.
Featuring a specially designed tube fin competition core that is 91% larger and has 140% more core volume than the stock intercooler, the Wagner Tuning Competition Intercooler Kit is ideal for performance drive, even for racing use. 
Its lightweight and high-performance core provide ample airflow to adjoining components, giving you an edge over the competition. And the benefits just keep going on - the intercooler's aluminum cast end tanks were optimized in CFD simulations and incorporate an air baffle to ensure uniform filling, resulting in excellent cooling with minimal back pressure. 
Installation is a breeze with the included plug-and-play kit components, and the kit is TUV-certified for added peace of mind. The kit includes the intercooler, air baffle, two black silicone hoses, mounting material, and easy-to-follow installation instructions.
With the Wagner Intercooler, you can expect better engine performance and reliability, as it helps to maintain low inlet temperatures and de-restricts the turbo inlet path. Experience the power of enhanced performance and reliability like never before with the Wagner Tuning Competition Intercooler Kit, available now at ID-Workz.
This sleek and stylish carbon intake system offers both performance and aesthetic benefits that will enhance your driving experience. The Eventuri Carbon Fibre Intake System is designed to maintain low inlet temperatures and de-restrict the turbo inlet path. 
This means that the system pulls in cooler air from the inner wing area, resulting in better engine performance and efficiency. The carbon airbox enclosure also shields the filter from heat sources in the engine bay, which could otherwise cause a loss of power.
Not only does the Eventuri Carbon Fibre Intake System improve your car's performance, but it also enhances its appearance. The carbon fibre design of the system looks great under the hood, adding an extra touch of style to your engine bay.
By upgrading to the Eventuri Carbon Fibre Intake System, you can expect a noticeable improvement in engine performance and efficiency. This high-performance part is specifically designed for the Honda Civic Type R FK8, providing a seamless fit for a hassle-free installation.
Overall, the Eventuri Carbon Fibre Intake System offers a winning combination of style and substance, making it the perfect upgrade for driving enthusiasts seeking to make their Honda Civic Type R FK8 better. Check out ID-Workz website to learn more about this must-have upgrade for your vehicle.